Jan 23 '13
Color // Yellow
Minnesota weather has been cold the last few days and by cold I mean the temperature is frigid in the negative numbers. It makes enjoying the outside impossible. To cheer us up we decided a color study on a happy color was in order.
Did you know, color has an affect on the brain? Colors stir emotion and feelings. Colors give off moods and meaning.
We decided to showcase the color yellow. Why? Yellow is the color of sunshine, the sun is warm and as people, we yearn for warmth. It's associated with joy, happiness, intellect, and energy. Yellow produces a warming effect, arouses cheerfulness, stimulates mental activity, and generates muscle energy.
Yellow is a "pop" color, and can be used to make a statement in a design piece, as well as, warm it up. Because yellow is such a strong color, it is often used in billboards and signs. Yellow is a lighter color on the spectrum and pairs well with black, creating an effect that grabs your viewers attention.
A quick image search of just the word "yellow" produces an amazing splash of yellow on your screen. We picked out a few images to showcase below.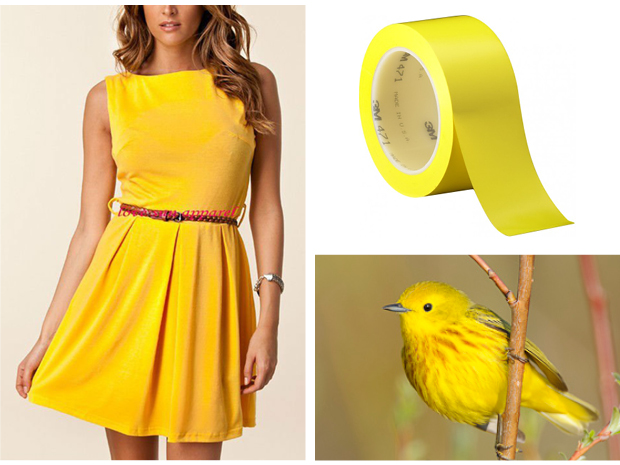 Here are the links back to the original images.
Yellow Dress, Yellow Car, Yellow Fish, Yellow Rope, Yellow Road, Yellow Bird, Yellow Bokeh, Yellow Peeps, Yellow Purse